Ah Summer bliss, the warm weather (most of the time), the many outdoor events and the opportunity to relax and take some time off. That I sure have done, and six weeks of that too by now. Except for a tiny bit of online tutoring I have had a great break. So what have I been doing with this time off?
Anyone who knows me well enough knows that I am a man of rock, live rock 'n roll. This year I went off to a rock and metal festival in Denmark called Copenhell. An old university friend lives in Copenhagen and we have been going to rock festivals for a good few years now. From the big names we saw Bruce Springsteen, Alice Cooper, The Scorpions, Sixx AM and Black Sabbath. I have been to Copenhagen two Summers in a row and it has really grown on me as a pretty city by the sea and full of canals.
The first half of 2016 took me by surprise with the huge growth of online tuition, and with no days off I lost track of a few friends. I have now made up for that and have been catching up with loads of great friends. They have forgiven me for me going incognito for a while, or so they tell me anyway 🙂
For the first time in my 10 years of tutoring I met tutors last year and have become good friends with some tutors. We socialise now and it's great to have 'work colleagues' as friends, and being an independent tutor is no longer the lonely profession it used to be for me. I organised a tutor meetup at Hyde Park in July, the day was absolutely beautiful and we sat and chatted on the grass in the park. The tutor meetups have been a real success and I can see these growing even more over the coming months.
I have been keeping my Science brain busy in other ways, I went to the Royal Society exhibition, saw Professor Brian Cox give a live lecture, and the best one of all was a trip to the Farnborough Air Show. I got to know a tutor from Farnborough in December 2015 and she invited me to her housewarming BBQ weekend party. This was the perfect excuse for me to see the airshow as well. And what an airshow! I very highly recommend going to it, you see airplanes do some mind blowing things.
The growth of my tutoring business in 2016 has given me good income, and a nice buffer over the summer so in terms of earnings I don't feel the same urgency to get tutoring again as I have done so in the past. I do like tutoring and can't be kept off it for too long though. There are a few students who I feel need to be kept ticking over the Summer as they risk going into the new school year on a weak foundation, so I am keeping track of them and I will start tutoring them before they go to school.
And then there is my favourite county Yorkshire. This month I am going to Yorkshire both to tutor, and also visit a couple of other families purely to socialise and to be a tourist. These two families used to be clients of mine and since we have so many values and memories in common we have become parts of each others lives. It will be good to catch up with some of my earliest students from when I first started tutoring. They are in their mid twenties now so it will be nice to see how they are doing in life now.
The summer marches on and I stay true to my other love in life, making and performing music. I have been doing tons of that and am on stage solo and with my band over the summer. 2016 was another first to mix up tutoring with rock music and I invited parents and family to a gig of mine, same again for my next band gig.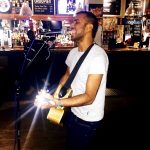 The summer continues and as tutoring is such a big part of my life now, this year has been really awesome to get parts of tutoring involved in my personal life, from making new tutor friends, inviting families to my gigs and putting in some tourism mixed with tutoring. Love every minute of it.