Just over 3 years ago I attended my first ever maths conference #MathsConf10 in London. That event was to change the course of my teaching life forever. I plugged into a network of passionate maths teachers and went deep down the rabbit hole of CPD; from books, articles, journals, CPD videos, podcasts, twitter discussions, conferences, the La Salle CPD days, webinars to hosting #MathsChatLives and more. Back in June 2017 I could not have dreamt that I would one day be presenting at a MathsConf. I felt so out of place even amongst tutors since I was the oddball one teaching entirely online. None of that mattered once I plugged into a network where everyone had the love of teaching maths in common.
I attended the mathsconfs religiously over the last 3 years and got to know the regulars. With the La Salle CPD days I started finding parallels with my previous experiences of CPD in industry and in academia. I knew that presenting to peers is an important aspect of professional self development, personal growth and accountability. Imperial College had a great ethos of communicating Science and I had already presented at Tribology conferences, both in poster and presentation format. That journey ended for me in 2005 however when I left university academia. So to go back to powerpoint after all these years was a daunting and exciting prospect.
When #MathsConf23 went virtual, it was brand new territory and I was prompted to put in a workshop proposal. I had run some live online CPD courses on Zoom for tutors before (Indie Tutors) and of course #MathsChatLive but that was very different to a full maths CPD workshop. I was both excited and nervous at the prospect of presenting a workshop. Excited, because the virtual teaching environment is now my natural teaching environment. Nervous, because of imposter syndrome! All my teaching is one on one and therefore I rarely ever talk for more than 5 mins before interacting live with a tutee. So I didn't have the nerve to put in a proposal for #MathsConf23 where I'd be talking for an hour. Instead, I took the smaller steps of presenting for 5 mins first to the #LockdownStaffRoom group of maths teachers, then at the Seneca maths conference, and then as a panelist on the Tutors' Association webinar. I gained more confidence after these short presentations. So finally, I submitted #MathsConf24 proposal for a full one hour presentation.
But what would I present on? I didn't want to talk about online tutoring like I had done for the mini talks. Instead, I wanted to focus on specific aspects of mathematics teaching itself. I had 14 years of teaching behind me and felt that I should cover things I have learnt in all these years. The imposter syndrome inner voice said "you have nothing new to add, everything you have to say has been said before and what if the stuff you are saying is wrong?" and the other voice said "that might be true but every teacher interprets and executes the teaching of the same idea in a unique way, and therefore what you have to add to the canon of knowledge will be valuable to someone. And you now have accountability from your peers. This is the opportunity and feedback you have been waiting for all these years".
I decided to present on how to help the lowest attaining pupils. The ones that have made me totally rethink how I teach. And have made me a more patient and understanding human being. In the last 3 years I have learnt a lot about using multiple representations which has been an eye opening and exciting journey. This quest to help my pupils has sent me down the path of learning how to teach the very earliest of maths ideas. I had to learn to teach everything from skip counting, number bonds to the meaning of "fraction-ness" and so much more. And this was hard, really hard. The earlier the maths idea or concept, paradoxically, the harder it seemed to be able to teach it well to someone who didn't grip it. I had never thought about what a number means. Or what the difference is between numbers, numerals or digits. But once I started understanding these concepts more (thanks to CPD), I was also able to help my pupils make meaning of it. I felt enlightened in a way I had never before. And this journey is what I wanted to share. Along with practical ideas of course. The engineer's mindset has never left me, practical, pragmatic actions that yield results. Some that I had hacked up along as a result of CPD and real world implementation.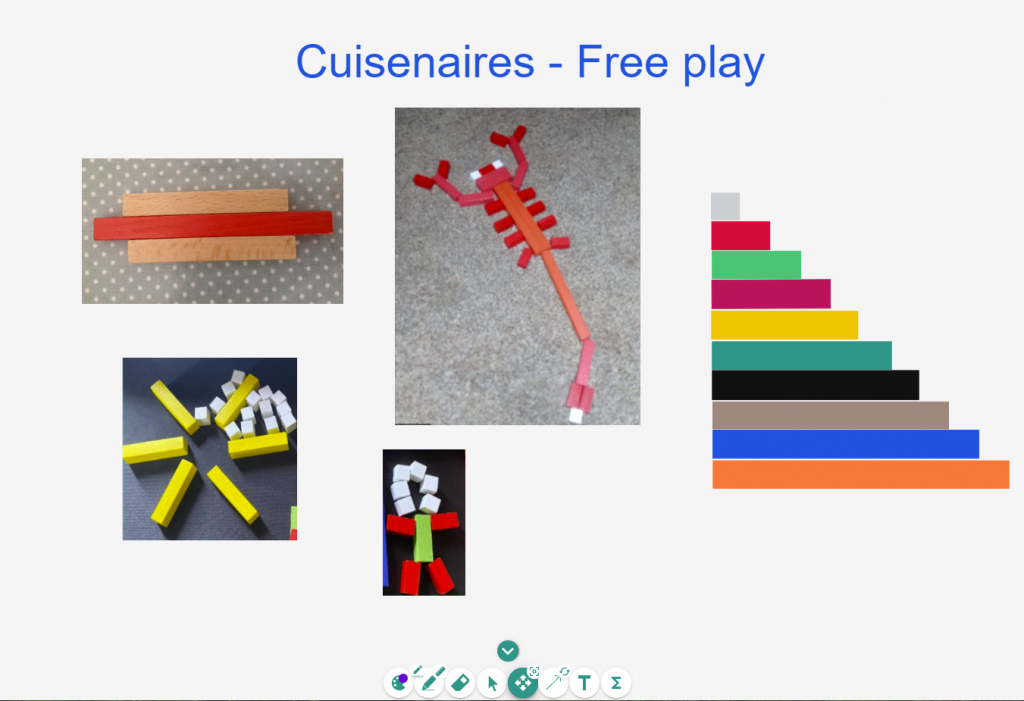 So I started preparing my presentation. After a little battle with Powerpoint, I thought I'd try out Google Slides instead. I just couldn't do it as I couldn't figure an easy way of writing live on my presentation using a digital pen or to move manipulatives about on either PowerPoint or Slides. After some consideration I decided to use BitPaper for the presentation itself. BitPaper is not a presentation software as it has only one font and no option for any text formatting other than changing size and colour. But that was enough for me. And in some ways I found that restriction quite liberating with such limited choice.
The more I prepared it, the more I realised that my presentation will resemble my day to day teaching canvas itself. This gave me a great sense of relief, as snippets of my day to day online maths tutoring, from content relevant to primary teaching, secondary, GCSE etc. was what I wanted to share. I even started to copy and paste actual teaching examples from tutoring sessions into my presentation. Planning a whole hour teaching session was also something new I had to learn. And if I am honest I have never prepared a one hour lesson in my life ever, as it is not needed in tutoring. But I had prepared research presentations before, so that was the frame I was taking. Still, I just couldn't run a presentation with any live and real interaction, so I put my thinking cap on to design elements of this. I had seen some La Salle CPD webinars that had neat interactivity with chats and polls, so that stimulated me for more ideas.
I started putting little snippets of text as ideas on the notes app of my phone and then to the presentation file itself. Every time I got an idea I felt I wanted to present I'd make a short note of it. Like so many teachers/tutors I've had the busiest of terms ever in my teaching career so far and I didn't get a good enough stretch of time to work properly on the presentation. Two weeks before the big day arrived, I barely even had a slide ready. The publicity for the conference was going full steam ahead by then and my workshop would occasionally be plugged.
It was time for me to knuckle down and deliver. I started throwing all my ideas down now. At first I thought I wouldn't have enough material for a full hour talk. But it was clear that if anything, I now had too much material with one week to go before the workshop. So I now started trimming some ideas down. A couple of teachers on twitter also tweeted they had cut their presentations down so I knew I was on the right track.
In fact I was still finalising slides the night before the conference and I was still feeling bogged down by it all. I had not even done a run through of the talk to see if it ran on time. Though I did a technical check with my tutor colleague Paul the evening before. What helped tremendously was being on a live zoom group social call in the #LockdownStaffRoom with some of the maths teachers I've got to know so well, including my La Salle presentation host being there as well. The company of other maths teachers face to face virtually made the finalising of slides such a pleasurable and motivating experience. I realised that I'm presenting to colleagues, who just like me live and breathe maths teaching. And have taken a day off from their busy lives to present and be part of the conference. This breathed new life into me and I finished the whole presentation off. I did one last test run after the #LockdownStaffRoom social. The presentation ran to 50mins, plenty of time to spare for the real thing. I had built in some real time interaction with the audience as well using twitter, which I was really glad about. But would this actually work out on the day?
My presentation was in the first period for 9:30 am out of the six on the day. I was mightily happy about the prospect of getting it out of the way first thing and not feeling nervous all day instead. I did some pre flight checks on all my tech; microphone level, camera image and lighting, screenshare window of presentation, chat window with La Salle, chat window with audience and twitter browser tab. All ready to go.
With great energy my host Jonny Hall aka mathsbot introduced me and I started it all off by welcoming everyone to the mathsconf and thanking everyone for taking time off on their weekend to hear me live. After about 5 seconds of nerves right at the very start I was in the flow of it all. Like a teaching session with a tutee it flowed very smoothly and I was well into my element. From performing as a musician I know when a singer records in the sterile and lonely environment of a studio they have to put themselves in the headspace of singing that song to just one person. Live at a venue is different and the energy for the same song needs to be dialled up to fill the room. So in my head I was presenting to just one person, the delegate on the other side of the screen. This made me feel more relaxed as well as I wanted every delegate to feel that I was talking to them individually on their side of the screen. Just like I do in my day to day tutoring.
The audience chat was very useful to keep an eye on as I got to know which ideas were resonating and leading to peer to peer discussions. I asked some questions on ideas behind numbers to get everyone thinking and was delighted to see answers coming. The exercise that I really wanted to test on on scale using twitter was one based on the use of Egyptian Hieratic numerals as part of the sections on numerosity (numberness), numbers, digits and numerals. This is one of my absolute favorite exercises that I do nearly with all my tutees of any age. It is one thing doing these with tutees so I was curious to know how it would play out with fellow teachers. As part of the section on numbers, digits, numerals, I went to explaining how the numberness of a number can be drawn out using Egyptian Hieratic symbols live using an example. I asked delegates to draw their own versions out, take a picture of that on their smartphone and post it live to twitter.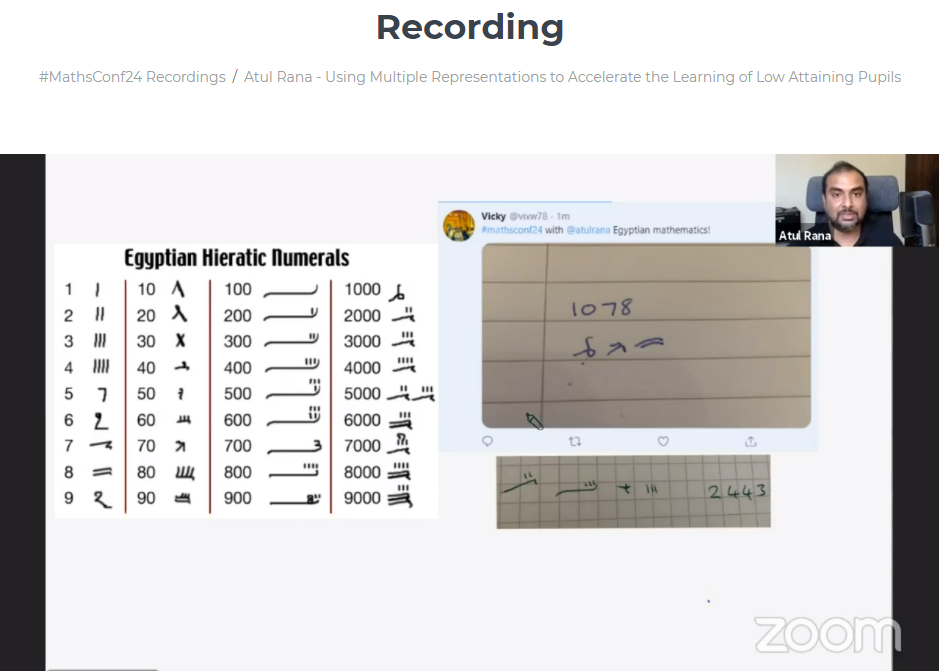 There was a 20 second delay in the live video being streamed to delegates so I had to wait a little and not talk at all during this short time window. I initially made the mistake of switching to the twitter tab too fast and not giving enough time for delegates to see the screen. The chat window feedback was instant. I corrected and went back to the slide with the task and stayed on it. After about a minute, something beautiful happened. My twitter timeline was flooded with answers. Handwritten with pen and paper. Each one with its own unique personality. There was something really human and organic seeing delegates handwriting appear in real time. I took two of those examples from twitter and snip-pasted them live into my presentation. So two of my delegates now became part of the presentation! My gamble had paid off and I felt real connection with delegates from that point onwards. It was now two way real time communication.
I went through a bunch of things on the presentation, sometimes writing out explanations using my digital pen, moving virtual manipulatives and of course talking in the context of the slides. The presentation itself would be a blog post of its own but for anyone interested, the video recording is available to buy as part of the La Salle Teacher CPD college #MathsConf24. I concluded my presentation, looked at chat questions and answered as many as I could. Jonny Hall my host also asked a question on behalf of a delegate and we had a little bit of a chat at the end. And then I wrapped it all up. Phew, that was a good one and I was glad that was out. Onwards to taking part in the rest of the conference which was so stimulating.
So my first workshop was fourteen years in the making. I would possibly be the first career tutor to present at a conference like this. Hopefully paving the way for many other of my tutor colleagues who I know are also keen to present. I really recommend tutors to take the plunge as La Salle are really open minded with these things. A few other teachers also made their debut for a maths conference presentation so I wasn't alone. I have much still to learn about teaching mathematics. So being able to share whatever I have learnt so far with my peers is a superb opportunity. The beginning of a journey of accountability, enthusiasm, personal and professional growth.